In order to answer to the lack of protective devices against coronavirus, we designed an open source face shield that complete surgical masks or FFP2.
This face shield is useful against direct splashes of droplets.
It is reserved for health professionals and more largely professionals in repeated contact with the public, this face shield is made with accessible materials and can be manufactured in 3 minutes.
We provide the required documents freely for the manufacturing.
Help us: Download it! Make it! Share it!
We would like to mention the commitment of Makers who currently manufacture face shields with 3D printing technology.
Characteristics
– Made in 3 minutes
– Costs less than 1€
– Accessible materials and tools
– Accessible devices: copier or laser printer
– Weighs 15g (0,03 lb)
– Can be folded, rolled up and put in an A5 envelope
– The transparency is not perfect
About use
It is a single use face shield. If you have to re-use it, sterilize it according to the recommendations of your establishment.
About composition and assembly
– Transparency printable plastic sheet A4 (100 à 125µm)
– Flat elastic
The set of elements is assembled with standard staples
Feasible quantity
Assembly: 20 screens/hour, around 100 face shields/day
Printing: 1 laser printer = 1200 face shields/hour, around 6000/day
Safety instructions
It is a non-certified prototype that doesn't exempt in no way to wear chirurgical or FFP2 masks.
This face shield is useful against direct splashes of droplets, with a filtering masks.
Before using the face shield, you have to ask a medical professional or hygiene services in your institution for advice.
Currents supporters and contributors
– Anne B, nurse
– Bernard B, project manager
– Amélie Q, schoolteacher
– Sylvie C, pharmacy dispenser
– Bernard L, retired general partitionner
– Benjamin R, e-commerce project manager
– Clemence D, communication officer
– Nicolas, stationery store manager
– Juliette C, nurse
– Alexis B, haberdashery manager
– French regional hospitals
– Rune Bjørnerås for Victor Mono Font
– Pierre-Alexandre H, researcher
– Claire B, english teacher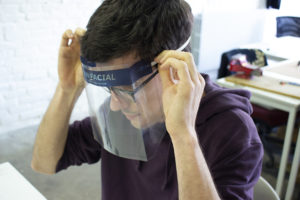 If you want to contact us
By mail at ecran@faubourg132.fr
or join us in the Facebook group .
Our commitment
– We created and made the face shield available
– Prototype production
– Documents' distribution and improvement
– Exchanges with contributors
Licence
Use and share for non-commercial purposes only